Here's the summary of Mariah's Album Career
| | | | | |
| --- | --- | --- | --- | --- |
| Year | Album | Album Sales | Certification | No. of #1 |
| 1990 | Mariah Carey | 20 M (?) | 9xplatinum | 4 |
| 1992 | Emotions | 8 M | 4xplatinum | 1 |
| 1992 | MTV Unplugged EP | 5 M | 3xplatinum | 1 |
| 1993 | Music Box | 24 M | 10xplatinum | 2 |
| 1994 | Merry Christmas | 8 M | 4xplatinum | - |
| 1995 | Daydream | 20 M (?) | 9xplatinum | 3 |
| 1997 | Butterfly | | 5xplatinum | 2 |
| 1998 | #1's | 8 M | 4xplatinum | - |
| 1999 | Rainbow | 5 M | 3xplatinum | 1 |
Here's the summary of Mariah's # 1 Singles
Year

Single
Release Date
Entry Date
Highest Position
No. of Weeks on Charts
1990
Vision of Love
-
6/90
1
22
Love Takes Time
-
9/90
1
26
Someday
-

1/91

1

19

I Don't Wanna Cry
-

10/91

1
19
1992
Emotions
-
8/91
1
20
1992
I'll Be There
-
5/92
1
20
1993
Dreamlover
7/27/93
8/93
1
29
Hero

10/19/93

10/93
1
30
1995
Fantasy
9/15/95
9/95
1
25
One Sweet Day

11/14/95

11/95
1(16)*

26

Always Be My Baby
-
-
1
-
1997
Honey
-
-
1
-
My All
-
-
1
-
1999
Heartbreaker
-
9/29/99

1

-

* ( ) - no of weeks on #1 position
Fascinating Facts....
- Total number of #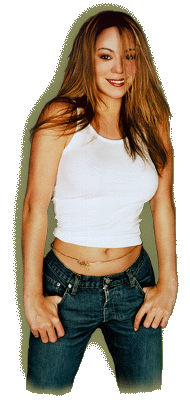 1 singles : 14
- Daydream, debuted at #1 on the Billboard Top 200 Albums chart
- "One Sweet Day" her duet with Boyz II Men which, having spent 16 weeks at #1, still holds the record as the longest-running #1 single in history
- With Daydream, she became the first female artist in history to have three studio albums to each sell in excess of eight million copies
- In November 1998, Mariah released her #1's album, a collection of 13 of her chart-topping megahits as well as four brand-new bonus recordings: "When You Believe (from The Prince Of Egypt)," a duet with Whitney Houston; "Whenever You Call," a duet with Brian McKnight; "I Still Believe"; and "Sweetheart."
- "Heartbreaker," is her 6th chart-topping R&B single.
- Maria Carey has had more #1 singles than any female artist, surpassing both the Supremes (12) and Madonna (11), and more #1's than any currently active recording artist.
- She has had more #1 singles (14) than any artist during the 1990s only behind from the Beatles (20) and Elvis Presley (17 or 18, depending on whether one counts "Don't Be Cruel" b/w "Hound Dog" as one or two records) and seen more singles (3) debut at #1 than any artist in history.
- With more #1 albums (4) than any female artist in the 1990's, Mariah was the first female artist to see two of her albums (Music Box and Daydream) reach the 10 million mark in sales and is the only female artist to have eight albums certified triple-platinum or better (in Mariah's case, her entire album catalog has achieved RIAA multi-platinum status).
- In fact, Mariah Carey is the only artist to have had a #1 single for every year of the 1990's. The last decade to have an artist hit #1 every single year was the 1920's when Paul Whiteman & his Orchestra hit the top slot each year. (By the end of the 1920's, Whiteman had become a Columbia Records artist.)
- With the exception of Merry Christmas (from which there was no single release) and #1's (a collection of her first 13 chart-toppers), Mariah has hit #1 with the debut single from every one of her albums.
- With the exception of her cover version of the Jackson 5's "I'll Be There," Mariah has co-written all of her #1's, including "Heartbreaker." With the exceptions of "I Don't Wanna Cry," "Someday," "Love Takes Time," and "Vision Of Love," Mariah has co-produced all of her chart-topping singles.
- With first-week's sales of more than 271,000 singles, "Heartbreaker" gave Mariah the biggest first-week's sales of her career and her biggest one-week singles sales ever.
- As of September 1999, Mariah Carey had sold more than 120 million albums and singles worldwide and earned an astounding 84 RIAA gold, platinum, and multi-platinum certifications for her singles, albums, and videos.
Click Up to go to Mariah Bios or Previous or Next to go to Album Career