[ Home ] [ Feedbacks ] [ Links ]
WELCOME to my...


jonathan's
---
Yup, that's the question! Because if you do, here's something that I'm sure you can't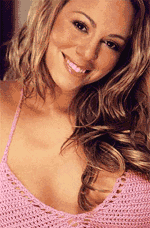 resist to look on! So…are you?
Truly, I am a diehard fan of Mariah Carey since I was a child and I'm very much proud to say that. I may say that this page is only an amateur one because actually, I don't even have any knowledge about making a web page, I just followed the step-by-step procedures in the screen and here it goes the finished product. So I hope you'll like my work because this is really a "sweat and blood" effort.
Below this, are the list of things you can find in my page. I rest assured you that my page is worth visiting. ☺If ever you have some brilliant ideas in mind that you think could help improve my work, please be free to send your suggestions at my e-mail address @ jtm81879@yahoo.com.
Thank You very much for visiting. Hope you like it!!!! :- )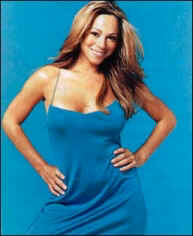 ---
THE CONTENTS
Read fascinating facts about Mariah including her Biography....her Album Career....her Awards....and more!!!
See all her great albums including the new one Rainbow and read its complete track list.
Find out what's the latest on Mariah. (courtesy of MTV , Yahoo News and Mariah's official fansite )
Feast on some very rare and fantastic pics of Mariah Carey!!! Only here!
Enjoy some of my MIDI files. If you want, you can download them freely so you can listen to them again and again. You can also add them into you own web page .
See all Mariah's songs with complete lyrics.
How well you know Mariah?? Do you know her favorite perfume, actor, food? Or do you know what does Mariah means in Hindu? If not, check it here!!
If you're through visiting my Mariah Carey page and you're still wanting more you can go to my other favorite Mariah sites and fansites like www.mcarey.com or at www.sonyrecords.com, www.columbiarecords.com or at www.mariah.org.
You can also go to my other web pages about Boyzone, Westlife, celine Dion, Backstreet Boys, Michael Jackson, etc. (UNDER CONSTRUCTION)
---
ACKNOWLEDGMENT
I would like to thank Tripod.Com for giving me a chance to publish my web page under their name. If ever do you want to have your own home page, click here.
---

Sign My Guestbook
View My Guestbook